>>Computer Science and Intelligent Systems website
"Creation of a safe and comfortable future smart society by making full use of intelligent information processing"
Education and research in the department focus on the state-of-the-art information science field from international perspectives. The objective is to achieve a comfortable and safe, advanced information society, covering from the development of multimedia information processing technology for the analysis of coverage of sports, the tracking of people's movements, and characters, voices and images, to algorithm design, parallel computing, fuzzy theory, and furthermore to data mining, evolution simulation, network systems, and analysis of information recommendation systems and other large-scale systems.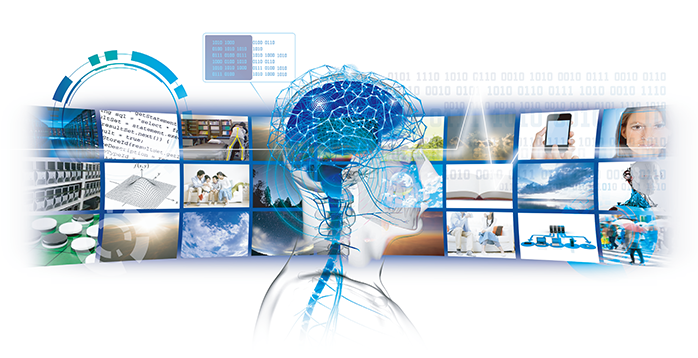 "Aiming to train highly creative and independent engineers and researchers to achieve safe and secure intelligent systems with advanced information processing abilities"
The processing capacity of computers has been dramatically increased in recent years and its influence has spread throughout society. As our society has become complex, the role of computers to respond to the society has become more and more important. However, the level of intelligence of computers still lags far behind that of humans, such as the ability to take in information from the environment and process it flexibly, and the ability to learn through experience. The Department of Computer Science and Intelligent Systems conducts research to achieve, on computers, human intelligence, such as recognition, understanding, reasoning and learning, with the aim of creating a human-friendly, safe, and comfortable information-oriented society.
The dramatic progress of information processing technology, such as intelligent information processing systems, intelligent systems and information communication network systems, is bringing innovative changes to the social structure and our lifestyles. The objective of the department is to train engineers and researchers with basic knowledge of information processing technology for hardware development and ability to apply such technology as well as with broad humanity and ethics in order to develop technology to use information in a sophisticated way and realize an abundant society in the future.
The department offers programs designed to help students acquire specialized knowledge of intelligent information engineering, such as software systems, image engineering, intelligent media processing, evolutionary computation, computational intelligence, machine learning, neuroscience, human information system, system engineering, digital systems, knowledge management, information security, information systems, information communication systems, communication networks, digital communication, and mobile communication; as well as mathematical knowledge, such as discrete mathematics, mathematical analysis, mathematical statistics, experimental design methods, and numerical analysis, with the aim of training highly creative and independent engineers and researchers who can, on their own, identify issues that need to be addressed.
Academic Staff