>>Physics and Electronics website
Pioneering the future of IoT society using "Physics and Electronics" with unlimited possibilities.
Electronics, which has been developed based on physics, is a fundamental technology that supports our convenient life.
"Physics and Electronics" is a multidisciplinary academic discipline with unlimited potential. Now a days, new research fields such as photonics (light), spintronics (magnet), phononics (heat), plasmonics, are generated. In order to implement these new academic studies to a ultra-smart society as IoT technology, unexpected ideas of young students will be the breakthroughs. We provide highly advanced education and perform the cutting-edge research to open a route to future electronics industry. It will enhance the global talent of students.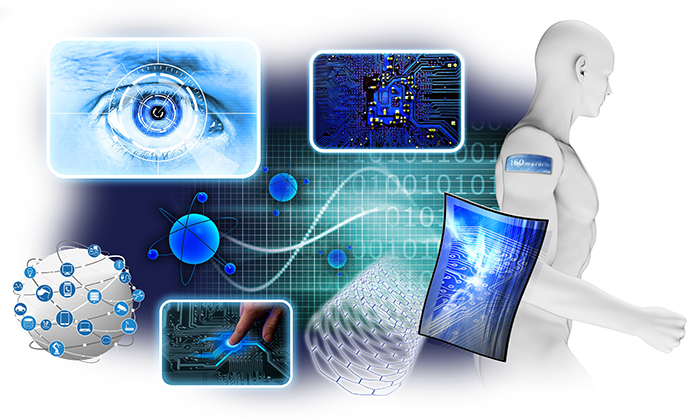 We explore electronic phenomena, pioneer novel electronics,train the professionals who will be a global leader.
Department of Physics and Electronics studies the fundamental principles behind electronic properties of materials and aim at new applications of electronics using these principles. This research field will be important forever for Japan which aim to promote innovation in the global society. Students in this department can learn not only fundamental physics (dynamics, statistical physics, electromagnetism, quantum mechanics) but also applied physics (superconductivity, organic electronics, laser science, semiconductor physics, nano-science, spintronics). The curriculum also includes electronic circuits, information theories, and communication engineering on the basis of fundamental physics.
Our department consists of the following twelve groups: (1) "Quantum Physics of Condensed Matter" studying quantum phenomena at low-temperatures with high magnetic fields; (2) "Nano-Optical Physics of Material" studying nano-optical functional design; (3) "Physics of Organic Semiconductors" studying optical and electronic properties of soft materials; (4) "Nanodevice Research" studying devices using nanomaterials and nanotechnology; (5) "Semiconductor Processing" studying nanoprocesses in manufacturing electronic devices; (6) "Physics of Optical Devices" studying plasmonics and laser application; (7) "Physics of Novel Devices" studying electronic devices using substances with innovative functions; (8) "Silicon Photonics" studying silicon laser and photonic crystals; (9) "Surface/ Interface Science" studying novel functions using semiconductor interface; (10) "Nonlinear Dynamics/Complex-System Dynamics" studying phenomena of synchronization and chaos; (11) "Theoretical Quantum Physics" studying strongly-correlated electronic state in theory; (12) "Physical Properties of Solid" studying electronic state in matter using synchrotron radiation. Each group is engaged in research and development in a specialized field and is offered with programs designed to develop specialists who are highly competent in rapidly developing fields of science and technology.
Academic Staff
Research Group
Staff
Quantum physics of condensed matter group
Yoshihiko Togawa [Professor]
Hiroaki Shishido [Associate Professor]          Yusuke Kousaka[Assistant Professor]
Nano-optical physics of material group
Hajime Ishihara [Professor]
Yong-Gu Shim [Associate Professor]
Nobuhiko Yokoshi [Associate Professor]
Physics of organic semiconductors group
Hiroyoshi Naito [Professor]
Takashi Kobayashi [Associate Professor]
Takashi Nagase [Associate Professor]
Nanodevice research group
Seiji Akita [Professor]                               Kuniharu Takei [Professor]
Takayuki Arie [Associate Professor]
Semiconductor processing group
Yoshihiko Hirai [Professor]
Masaaki Yasuda [Associate Professor]
Quantum and optical device engineering group
Koichi Okamoto [Professor]                            Kenji Wada [Associate Professor]
Tetsuya Matsuyama [Assistant Professor]
Physics of novel device group
Norifumi Fujimura [Professor]
Takeshi Yoshimura [Associate Professor]
Daisuke Kiriya [Associate Professor]

Nonliner dynamics/Complex system- dynamics group
Takehiro Horita  [Professor]                    Noriko Oikawa [Associate Professor]
Taiki Haga [Assistant Professor]
Quantum physics group
Takayuki Uozumi [Professor]                 Masaru Kato  [Associate Professor]
Atushi Hariki[Assistant Professor]
Solid state physics  group
Toshiaki Iwazumi  [Professor]                      Kojiro Mimura  [Professor]                        Yukihiro Taguchi [Associate Professor]               Hiroaki Anzai  [Associate Professor]  
Silicon photonics group
Yasushi Takahashi  [Associate Professor]
Surface/Interface science group
Ryo Nouchi [Associate Professor]