"Take on challenging tasks to manufacture cutting-edge materials, from smartphones to aircraft."
What is common to computers, automobiles and prostheses?
Machines and devices that represent modern civilization are all composed of multiple materials for different purposes.
The lack of even one of the materials that make up a machine or device will result in the failure of its proper functioning. Progress in line with the times depends on the design and development of new materials.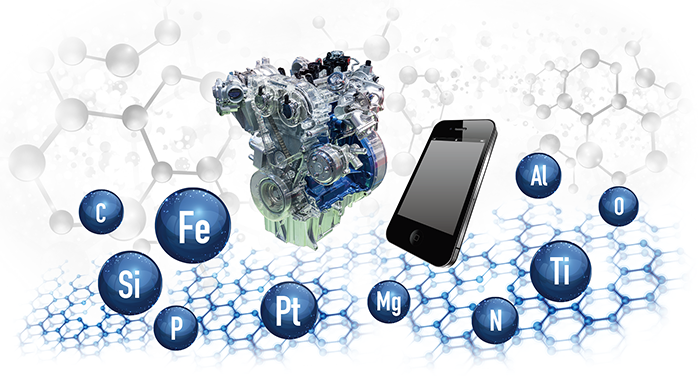 "Pursue new materials based on nanotechnology for a bright future.
Courses are designed to help students develop expertise, creativity and English proficiency that meet international standards."
"It's not design-limited, it's materials-limited,"according to a prominent university professor in the United States, meaning that what is limiting modern civilization's rate of progress is not our technological ability to design devices but the absence of materials that can function as required. In accordance with the national policy that places priority on nanotechnology, materials science plays a key role in this quest for progress. The Department of Materials Science offers courses covering a wide range of disciplines from the scientific basics to the applications of material engineering with focus on metals, ceramics, organic-inorganic hybrids and nanoscaled materials and guided by the following key principles: "Create new materials," "Understand structures" and"Evaluate/Enhance properties." These fundamental approaches can be universally applied to any material, from light and strong alloys used for aircrafts, functional ceramics used for capacitors and catalysts, hybrid materials possessing both organic and inorganic features, to nanomaterials exhibiting distinctly different properties from those of their macro-scale analogues.
More specifically, students will learn, based on their prior knowledge acquired at high school, special disciplines necessary to understand materials that support society, such as "materials chemistry." "materials physics" "microstructure of materials," and"strength of materials." They will be also provided with courses to acquire sufficiently advanced proficiency in English to communicate with researchers from around the world. In addition, through repeated training sessions and experiments, they will experience the special characteristics of these disciplines. In their fourth year, they will focus on one theme all year for their research, in which they will develop their creativity and international-mindedness in the process of solving problems to become a fully-fledged researcher and engineer.
Academic Staff